A helpful guide of what to do after you book your session.
Welcome to the next step in your self love journey!
Congratulations!!! YOU DID IT! I know it can be scary to book a session for yourself but you did it, babe!
These sessions are an incredible way to own your power and love your body as it is. By booking a session, you've made a choice to celebrate and embrace all that makes you who you are.
Remember that you're in a safe space and I cannot wait to connect with you and make magic!
I created this welcome guide to make the process flow smoothly and to provide helpful advice to ease your mind.
I started on my own self love journey in 2017. At 31 years old, I refused to spend the rest of my life hating my body and decided it was time to start loving my body and all it does for me. I always wanted to focus on shooting boudoir but now my mission is more than that. I want, more than anything, to make a difference. To change perceptions of beauty and show the world how damn magical women are. That's when I decided to focus on empowering women to love themselves and embrace their bodies. Like what you're about to do, I have been in front of the camera and bared it all. I know exactly what you're about to experience. I'll be there with you every step of the way. I'll remind you to breathe, we'll dance, and we'll most definitely laugh! I'll show you how to pose so no worries there! ANY BODY CAN DO THESE SESSIONS. I will be your own personal hype woman! You'll probably hear me yell out YAAAAS at least a few times. Be prepared to be loved on. YOU GOT THIS!!
Do not starve yourself or go on a cleanse before your session. You will need your energy.
Do not get a spray tan or use bronzing lotion. It can stain the bedding. It also can cause uneven skin tone.
Do not get waxed if it's not part of your routine.
Do not get a facial or do anything that could irritate your skin before your session.
Do not drink before your session or show up drunk or under the influence to "loosen up." This is for yours and my safety.
Don't stress! You're gonna rock it!
Do try and get a good nights rest before hand.
Do stay hydrated with water.
Do eat breakfast.
Do some stretches before your session. And don't worry if you forget. We will do some stretches when you get here. Do not be surprised if you're sore the next day. Fair warning.
Do keep an open mind and open heart.
A few more important details:
NAILS // Be sure to remove chipped nail polish. Bare, natural nails will work great! If you prefer painted, be sure you have a fresh coat of paint. I suggest steering clear of neon colors unless they go with the pieces you are bringing to wear. Stick with neutrals, tan, soft pinks, deep reds (not a neutral- I know), and even black is sexy.
HAIR // Please come with hair clean and dry with no product in it.
MAKEUP // Come to the session with a clean face free of makeup. Pack your foundation and mascara to bring along to the shoot. You may do your moisturizer routine if you have one.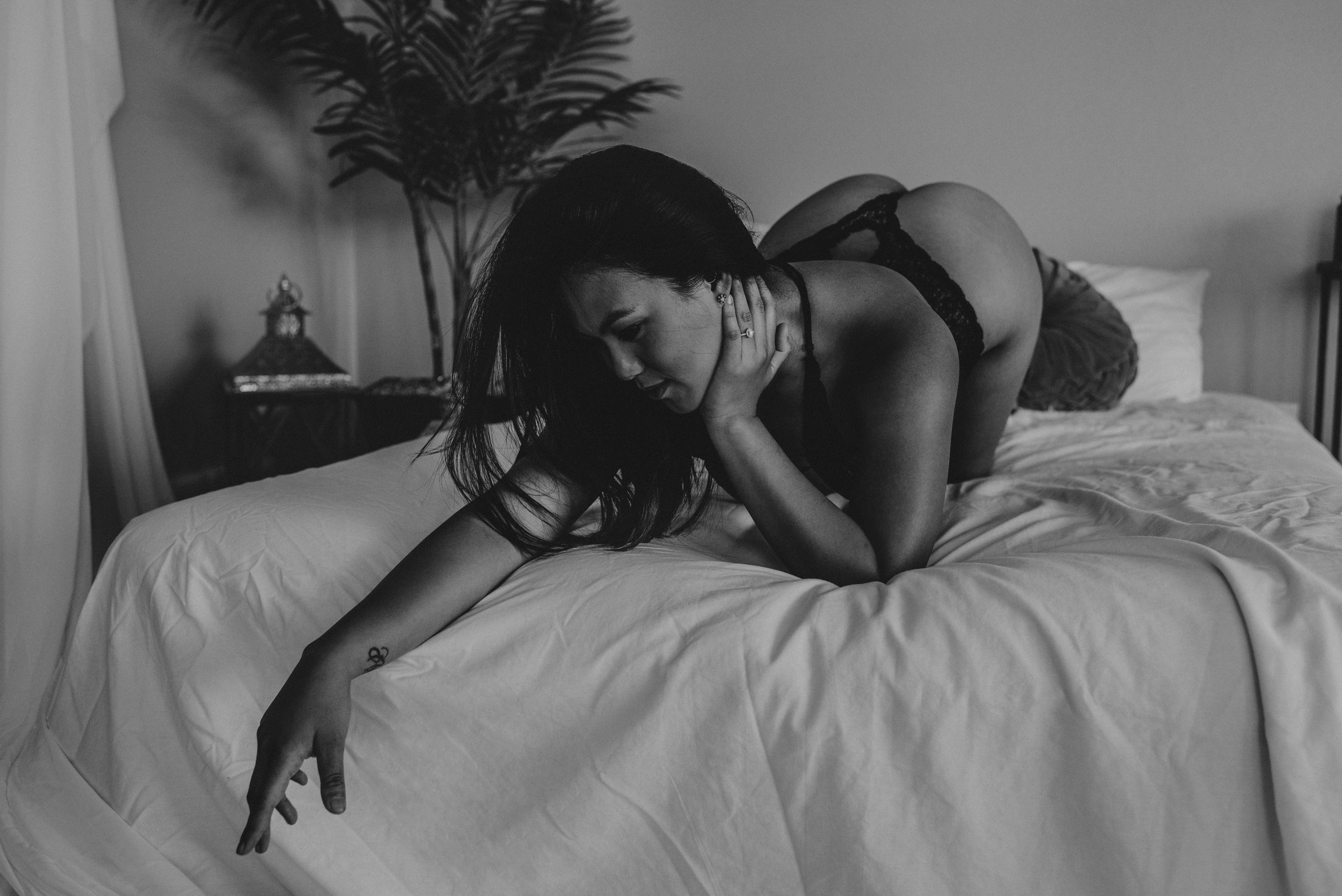 What to bring to your shoot:
-Come to your session wearing loose fitting clothes. A button up or wide neck shirt. Bring a robe if it makes you comfy. We are trying to avoid "sleep marks" from your clothing.
-Bring at least 2 outfits that fit and make you feel good. I will pull pieces from the boudoir closet in your size after our phone consult. But it is super important you bring your own outfits as well just incase.
-Bring jewelry if you enjoy wearing it. Statement pieces can be a lot of fun and create drama but simple is sexy too. Honestly, you're gonna look hot regardless.
ALL THE REST
JACKETS, SWEATERS, KIMONOS, SLEEP SETS, CROP TOPS, AND ANYTHING THAT MAKES YOU FEEL SEXY.
Here comes the part where I remind you that this session is for YOU. Whether you keep the images for yourself or plan on gifting them.. at the end of the day it's for no one else but you. Leave the sports jersey and collard shirt at home. I promise they won't notice if you don't wear them for the photos. Take this opportunity to have fun and let free your wild. It's important that your outfits represent YOU and fit you comfortably. Be sure your bra doesn't gape if too big or you're not spilling out if it fits too tight. Comfort is key. Be sure your undies fit comfortably too. I know shopping for clothing can be stressful and to add lingerie on top of it? YOU GOT THIS. Below is a list of size inclusive stores:
-Torrid
-Savage x Fenty
-Charolette Russe and Charolette Russe+
-ASOS
-Lane Bryant
-Forever 21 and Forever 21+
-TomboyX
-Amazon
-Fredericks of Hollywood
-Target
-H&M
-Fashion Nova and Fashion Nova Curve
-Hips and Curves
No two bodies are the same. It's what makes us human. We get sold products with promises of the perfect body and apps to smooth wrinkles and all our lumps and bumps. All the things that make us who we are. Our bodies tell a story of where we have been and what we have experienced. If you have a belly, stretch marks, cellulite, body hair, etc. this is the perfect time to embrace it and get comfortable with it. And if you're not there just yet and would rather not show your belly, that's cool too. You have the power and you can wear whatever you feel best in.
You have the power to stay covered or shed your clothing. I will never force you to do anything you're not comfortable with.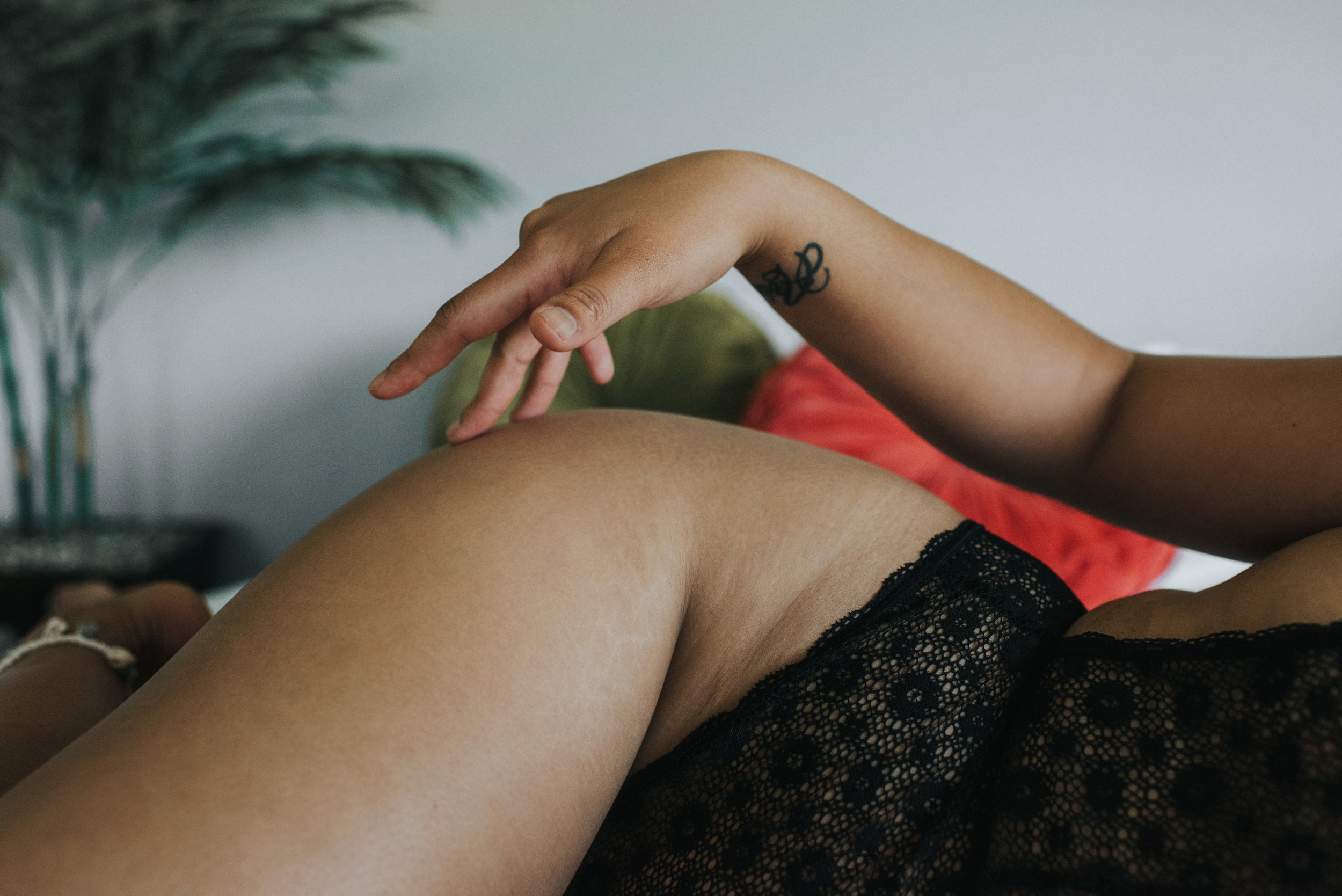 No friends or family allowed.
I request you come to your session a lone. It allows us to connect and have zero distractions. It's a lot more fun without an audience.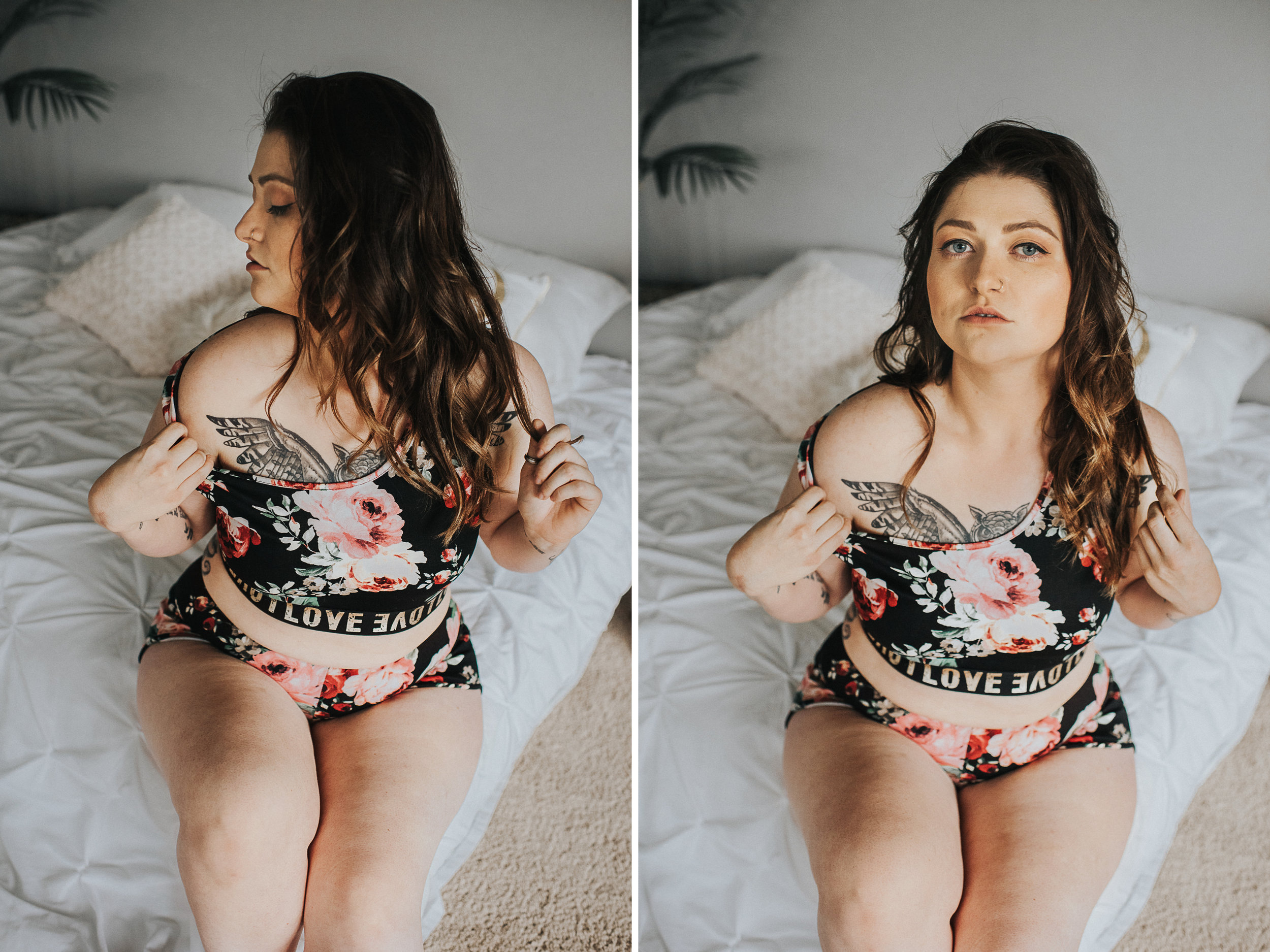 You're really doing this! And it's going to be amazing and magical. You are going to kill it and walk out of your session with so much confidence! I can't wait! If you have any questions, feel free to email me.
sarahannphotography.love@yahoo.com